Property Taxes Too High? Click Here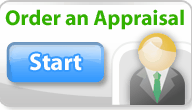 RHL Appraisals is a leading provider of residential and commercial real estate appraisals for the mortgage lending marketplace and the private sector. We are a network of the most qualified and experienced state licensed and certified residential real estate appraisers around. Why waste your time and money relying on an inexperienced real estate appraiser? Answer: Don't! Choose a local expert and trust his/her professionalism, knowledge and experience. If you want your real estate appraisal done by the best, most ethical, qualified, experienced and critical real estate appraiser servicing your local neighborhood at a reasonable price, contact RHL and we will make sure it gets done right.

Our seasoned real estate appraisers can provide any kind of real estate appraisal report for Pre-Sale Decisions, Primary or Secondary Mortgages, Reverse Mortgages, Employee Relocation, Private Mortgage Insurance Removal (PMI), FHA Mortgages, Estate Planning, Property Tax Appeals, Foreclosure, Bankruptcy and Divorce Settlement.
We employ cutting edge appraisal technology and methodology to not only improve our accuracy, but also to save time and pass along the savings to you.
Free Initial Phone Consultation
Extremely Fast Turnaround
Highest-Quality Appraisal Reports
Very Reasonable Fees
Electronic Ordering and Delivery
On-line Status Reports
Se Habla Espanol

Feel free to browse our website to learn more about our qualifications, expertise and services offered